Mad Pinball
Regular price
Sale price
$500.00
Unit price
per
Sale
Sold out
$500 Deposit - $7,000 MSRP
Limited to 25 Units
Elements is our next original pinball machine concept that features two modes, a different unique adventure with every play. Built with above industry standard quality parts, you can trust that the Elements delivers a professional solid platform that cradles a fun yet challenging playfield that appeals to all. HELP RESTORE OUR WORLD!

Features & Spec's
Game Features: Hard or Easy Version (FINISHED CODE)
Gift from the Gods Multi-ball
Three Flippers and Mini Upper Playfield
Shake Tree Attack
Element Super Pop's
Forge your weapon
7X or 9X Stationary/ 4X-Stand-up Targets
2X Newton Balls
Training Scoop
Pulsing Infinity Mirror
Kickback
The world has been plagued with five of the deadliest element monsters and the infinity mirror is glowing bright red. Three warriors, a Deadly Valkyrie, a Stealth Ninja and a Mighty Knight need to combat and conquer these element monsters. You need to bring back the infinity mirror to the pure white that it once was before it's too late!
Built with above industry standard quality parts, you can trust that Elements delivers a professional solid platform that cradles a fun yet challenging playfield that appeals to all.
Elements features a one of a kind Infinity Mirror placed in the middle of the playfield. We've also added an upper playfield, pop bumper, slingshots and kickbacks for non-stop action. Eye catching LED lights are incorporated into every aspect of the machine. Integrated throughout the backglass and playfield. The bright and colorful lighting design and synchronization is a definite eye-catcher. A high definition 13″ LCD display is mounted in the backbox, playing randomized full color animations when completing the objectives of the game along with another display in the games apron.
Baltic Birch cabinet with direct printed art of the Knight, sealed and then topped with 3 clear coats. Powder coated (Iron Stone Bronze) cabinet and playfield trim, with an awesome subwoofer system.
In terms of hardware, while modular, the PinBoard isn't highly distributed, like some other recent introductions to the pinball hardware arena. The Mainboard, the core of the system, can be fitted with a variety of daughter boards, simply called Cards. Examples include Cards that provide: high-voltage drivers, low-voltage drivers, display controllers, extended switch connectivity, and Wi-Fi connectivity. The PinBoard system is built around two key concepts: feedback, and smarts. By default, all drivers and switches come with LED feedback for testing, configuration, and troubleshooting. We have feedback on many other aspects as well, like fuse status, power rail status, and more. A touch screen on the Mainboard allows you to directly control and test many features without plugging any external device in.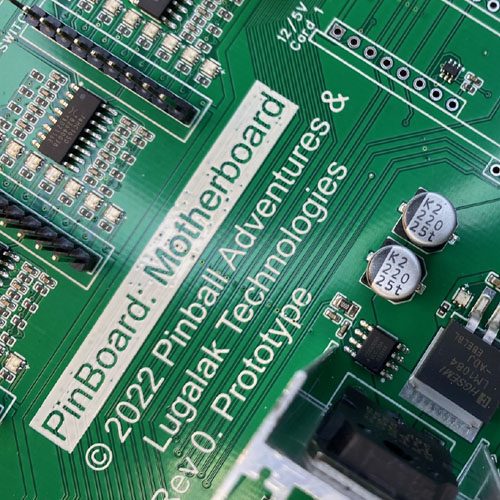 For smarts, the PinBoard has features like automatically isolating a failed coil, detecting unusual current activity on the various power rails, and other intelligent pre-emptive protections, which are designed to help game customizers, game creators, and game customers too: the technical support process is made easier and less frustrating with these features.
Open the head, and use the touchscreen to quickly read out a human-language error condition, or to test or configure the game. A typical PinBoard configuration can support 48 drivers at 48V, 48 drivers at a mix of 5V and 12V, 64 direct switches, and 128 matrix switches. By employing fewer Cards, costs can be reduced as suits a particular machine. Those are the onboard switch capabilities of the Mainboard itself, and those driver counts are achieved with 6 high-voltage driver Cards, and 6 low-voltage driver Cards.
Five Element monsters capable of dealing out devastating damage to anybody who dares face them in battle! Monsters forged in stone, metal and fire are ready to crush and burn your warriors.
Share
View full details